Remington model 121

The drawings listed below are scanned off existing factory catalogs, or existing books
These Illustrated parts Drawings are shown only to help you identify needed parts, they ARE NOT parts that are made or supplied by the host of this website

Most of these illustrations will be from factory catalogs, however some are taken from Frank de Haas's Single Shot Rifle book & are for identification only, & ARE NOT factory part numbers unless identified as such. This is important as about all obsolete parts suppliers use ONLY factory or closely associated numbers where ever possible so everyone is on the same page.
Note, for some of the older firearms, many over 100 years old, the factories never used what we now know as assembly drawings, but just views of many of the component parts & possibly randomly placed


Actual load times may take a while as these scanned pictures may be large, & depending on the speed of your computer & server
The parts listed below are for your identification purposes only.
The author of this website DOES NOT have any parts.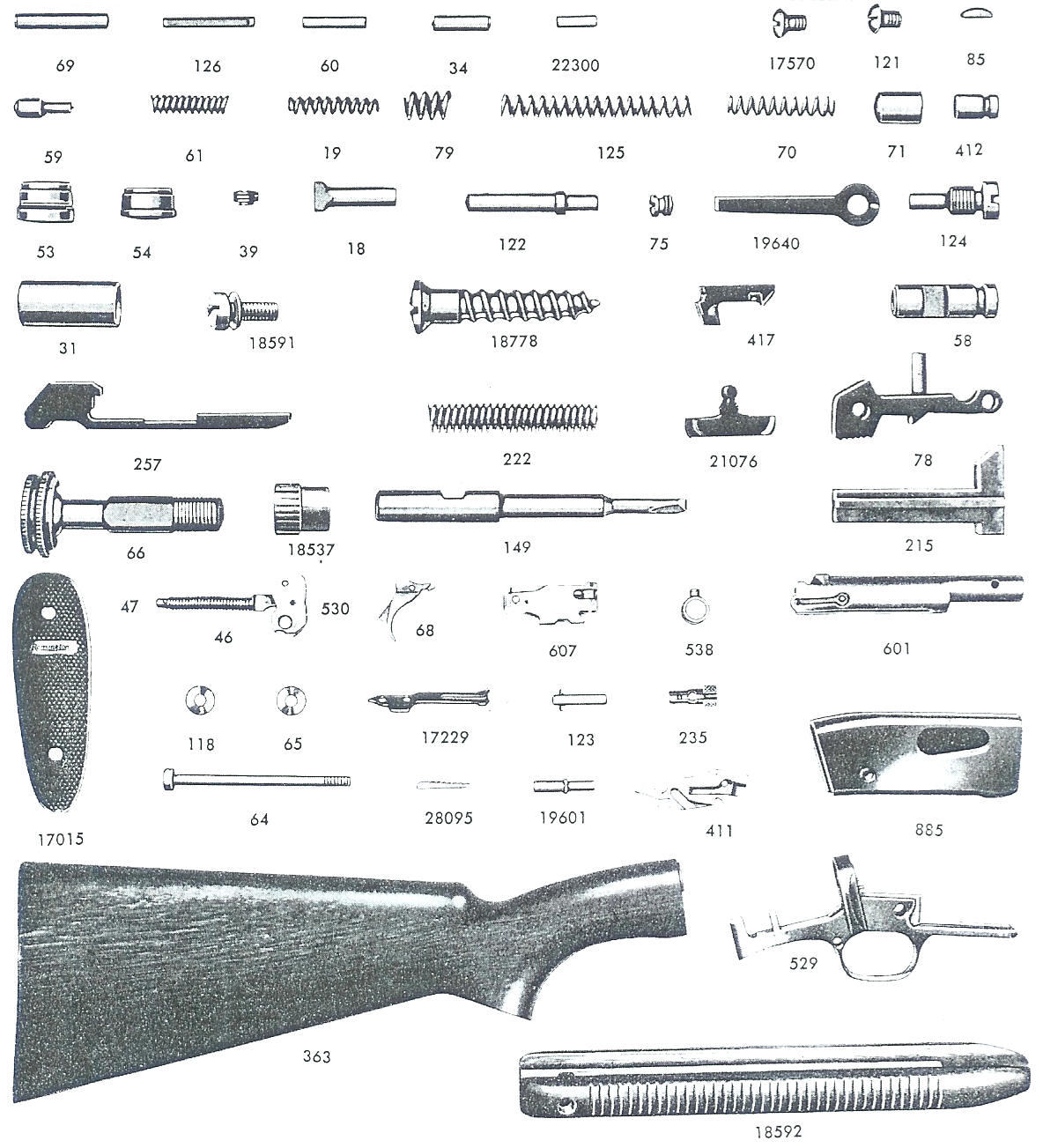 The Above illustration taken from 1959 Remington factory parts list, but does not show actual size or relationship to the parts
Part Number

Nomenclature

Part Number

Nomenclature

601
Action Bar 22 RF
533
Magazine Follower, REM Special
164
Barrel, Short, Long, LR (1940)
78
Magazine Lever
607
Breech Block, 22 RF
22300
Magazine Lever Pin
707
Breech Block REM Special
79
Magazine Lever Spring
17015
Buttplate
34
Magazine Pin, S, L, LR
18788
Buttplate screw
234
Magazine Pin, REM Special
363
Buttstock
235
Magazine Plug, S, L, LR
411
Carrier S, L, LR
335
Magazine Plug, REM Special
311
Carrier Dog
538
Magazine Ring
19640
Carrier Dog Spring
39
Magazine Screw
121
Carrier Dog Spring Screw
340
Magazine Spring
215
Cartridge Stop, S, L, LR
344
Magazine Tube, Outer, S, L, LR
129
Ejector, Rem Special
397
Magazine Tube, Outer, REM Special
122
Ejector Plunger, S, L, LR
46
Mainspring
123
Ejector Plunger Case, S, L, LR
47
Mainspring Rod
128
Ejector Plunger Case Screw
17229
Rear Sight Leaf (1940 Series)
125
Ejector Plunger Spring, S, L, LR
25095
Rear Sight Step
124
Ejector Plunger Stop Screw, S, L, LR
17570
Rear Sight Screw
417
Extractor, S, L, LR
75
Plug Screw
517
Extractor, Rem Special
53
Receiver Bushing, Plain
18
Extractor Plunger
54
Receiver Bushing, Threaded
19
Extractor Spring
257
Retainer, S, L, LR
149
Firing Pin, S, L, LR
91
Retainer, REM Special
150
Firing Pin, REM Special
58
Safety button
126
Firing Pin Retaining Pin
59
Safety Plunger
222
Firing Pin Spring
60
Safety Plunger Pin
18592
Fore-end (series 1949)
61
Safety Spring
18537
Fore-end Escutcheon
363
Stock
18591
Forearm Screw, with lock washer

64
Stock Bolt

21076
Front Sight (series 1940)
118
Stock Bolt washer
529
Guard (Trigger)
66
Takedown Screw
530
Hammer
85
Takedown Screw retainer
31
Hammer Bushing
68
Trigger
32
Hammer Pin
69
Trigger Pin
342 1/2
Inner Magazine Assembly, (S, L, LR)
70
Trigger Spring
396
Inner Magazine Assembly, (REM Special)
71
Trigger Spring Case
19601
Magazine Follower, S, L, LR
.
.
.
.
.
.
112
Forearm Screw lock screw, Old Style
327
Forearm Screw, Scalloped, Old Style (uses #112 lock screw)
.
.
.
.
Copyright © 2007 - 2013 LeeRoy Wisner with credit given for original illustrations. All Rights Reserved

Back to Ramblings


Originated 01-04-2007 Last updated 01-12-2013
to contact the author click here