Ideas That Can Make a Pickup Camper RV Life
a Bit Easier

Those of us that own or use slide in pickup campers, have at times come up with some simple ideas that can make life a little easier. The pickup that I use to haul mine is a 1997 Ford F150 short 6' box 4X4. Probably not ideal, and I have used a F250 in previous years, but the F150 is what I have now, as I do not need to haul hay or farm supplies anymore and this F150 gets better mileage plus having a shorter bed, I can walk behind it in the garage without running into the trailer hitch ball with my shins.
This camper that I had was an old 1983 8' Pilgrim that the manufacturer has went by the wayside a number of years ago. It is rather unique in that being that old and only a 8'er, it does have a toilet and closet in the LH rear. It has a 110 volt/propane refrigerator with a propane stove/oven and space heater plus a 12 volt battery converter. It has manual hydraulic jacks on the 4 corners. I have added a small 110 volt electric heater and a small microwave.
It was not fancy, but it was paid for plus it provided me with shelter if I venture away from home during my fishing and or hunting trips. In the 10 years that I had owned it, MANY things inside and outside has been repaired. The previous owner stored it inside a horse barn for a number of years, but it had the tell-tale signs of moisture from being left outside in rainy weather from the owner before him. I will not bore you with my repairs relating to all these endeavors however.

No, I was not really envious at all by those of you who have a new 3/4 or 1 ton diesel pickup and a new 10' camper that outshined mine. We all make justification for what we have and those of us who work and save all our life should get our rewards. The newer campers may have a lot more conveniences and newer styles than this older one. But mine served the purpose for the time that I have to use it and at my budget level of a retired person on a fixed limited income. Sometimes small ideas are the ones that can be most helpful for any size or value of a camper. Maybe some of these shown below will help you.
I am not overly fond of backing my pickup AND camper AND my 18' boat down a unknown boat ramp to launch the boat. Especially when you really are not sure the condition of the ramp or one that is a little steeper than normal AND OR has a lot of seaweed slime, loose gravel, gooey mud etc. etc. I have done it and probably will continue to do it, but many times not really liking it. In cases like these, sometimes I would rather unload the camper in a RV spot before hand. But then the hassle of reloading when I am ready to head home if only after a couple of days makes me wonder if it is worth the effort or should I just bring a tent instead?
However the real thing I hate is trying to load it with all the back up, drive ahead, move it 1" to the side, etc. get it slightly crosswise, especially if I am by myself. My pickup has the plastic bed-liner which also takes up much more valuable space in this aspect. I have given up on asking the wife to help guide me backing my pickup under it as there is only about 1/2" clearance between the fender wells and in places like the grey water holding tank. I have come up with a fairly simple idea of putting 5" Phenolic non swiveling caster style wheels under the rear hydraulic jacks in order to reposition the rear of the camper sideways at the time of loading. Usually you can get the front pretty well aligned, but slightly angled off, not true when you get farther to the rear but still be OK in the front.
Loading ; To solve the situation of loading, I use a footing block (when not on concrete or blacktop) under both the rear jack bottoms of a 2"X 6" about 12" long. I place the long part crossways on the ground if it is gravel or grass and level it crossways as much as possible.
The rear camper jacks do not really need to have both of them on the ground at the same time to raise it, (as this camper will readily stand on the 2 front and 1 rear jack). Both are needed for stabilization if you unload, or lower the camper and are staying in it for a while.
In loading, have the camper jack shafts extended (lowed) so the height that the camper is high enough so it does not drag on the pickup bed. Using the mirrors, try to be as square with the camper as possible. When I get the pickup bed backed under about 1/2 way or more, I get out and can look from the rear to see just where things are. OK, you all know this, but from here on we get different. Now raise one the jack's shaft enough to bolt on the 5" wheel unit as shown below, attaching this wheel to the shaft foot so it allows the camper to be moved sideways. Drop the shaft so the wheel is back on the 2"X6" and pretty well centered, re-tighten the bleeder if hydraulic, then jack that side up enough to slightly pick the other side's jack shaft off it's 2"X6" block.
Place the other 5" wheel unit under the other jack and bolt it onto that shaft foot. Repeat the procedure of placing this 5" wheel so it is able to move the camper sideways, adjust both of the rear jacks so your camper is level enough and be sure it will clear your pickup bed. If you are not exactly square or aligned for the rear, no sweat, simply push the rear of the camper sideways to where it will slide into the bed without dragging on the sides of the fender wells or hitting the holding tank or side mounted battery. You can use a small rock, or wooden block under the side of 5" jack wheels to keep the camper from moving back to it's unaligned position. You can not get a lot of movement here because the 2 front jacks may not twist a lot with much of the weight on them. If so, you might have to pull ahead then retry the backing process if you are off a great amount. You can usually get the front close, but the rear may be somewhat crosswise. that is where these wheels come into play.
Back up, get out and check it again before the final back in. Just be sure that everything on the camper clears the pickup bed. In the photo below the distance moved sideways was about 3", which is about maximum for the camper this unit was used on. For my newer camper 2" is about maximum.
Note the rock wedged under the tire to keep it from moving back & the distance it was moved indicated by the rust on the 2"X6"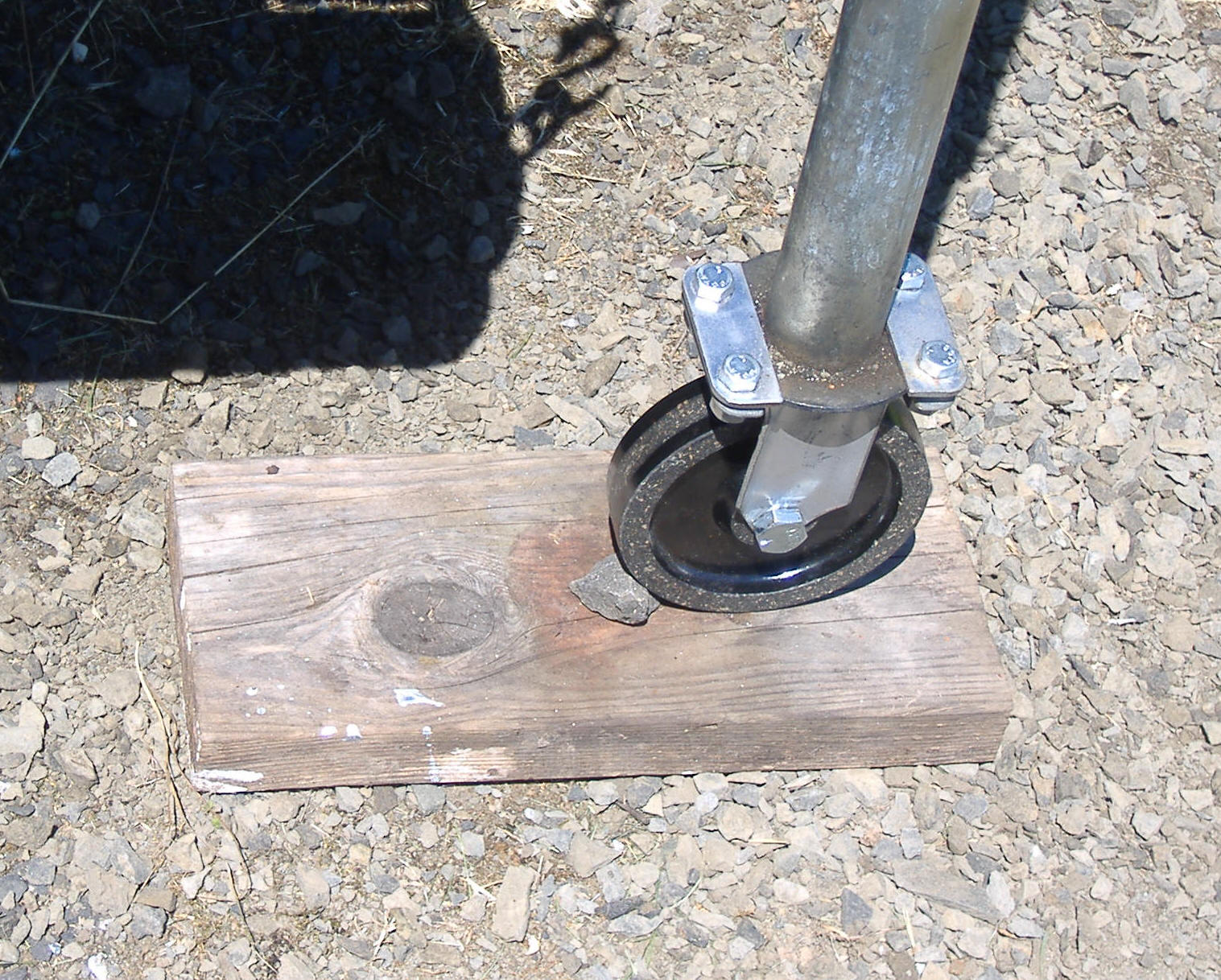 These little jewels greatly lessen the ulcers or heightened marriage discussions and usually speeds up the camper loading process. This can now be a one person, fairly smooth loading operation.

I do not have a lot of faith in leaving these wheel units on all the time, except when initially backing under the camper as these are not really good for use when the camper is stationary. The ones I used for this initial experiment were rubber tires mounted on plastic wheels off a wheel mounted metal cart. I purchased new 5" wheels made of a Phenolic material and with larger shaft holes which required some lathe modifications of being narrowed to fit the bracket plus drilling the shaft hole larger in the bracket. They seem to work much better.
Other than that, you will notice on the upper LH header photo, this camper is setting on a old Chevrolet pickup bed trailer. I use this at times if I am going to leave it in one location for a while. In loading the camper on this trailer it is very easy to manually push the trailer under the camper, watching as you go, so loading it is a snap even for one person. Then just back in with the towing vehicle, hook up to the trailer and go. Where it gets complicated is if I want to also tow the boat, hence load it on the pickup.
Outside Power Source ; This old camper does not have a hinged lid receptacle box for the power cable to be stored into like the newer models. Since this older camper only uses a standard 110 volt receptacle outside receptacle under the camper side, another idea was born, that works great, if I am parked and am using 110 volt extension cord power for the camper but need a battery charger for the boat or the use of a electric drill or whatever.
When at a regular RV spot I use the 30 Amp to 15 plug adapter and a heavy duty 110 volt extension cord because this camper does not use the 30 Amp receptacle. I have made up a short (12") dual outlet unit that I attach to the camper power inlet. Here the 12" cord has a male receptacle end that the incoming 110 volt power cord attaches to. The other end that plugs into the camper is a round female receptacle, but is "Y"ed back out into a 6" cord that has another female receptacle end. In use, I plug the extension cord into the long receptacle to feed power into the camper and if I need an outlet outside the camper there is this one hanging ready to use. Otherwise I would have run another extension cord from the power source or possibly have to unplug the incoming power to access that source.
Here the dual pigtail extension showing a spare hanging receptacle if needed for outside power. Note the tight fit of the water holding tank.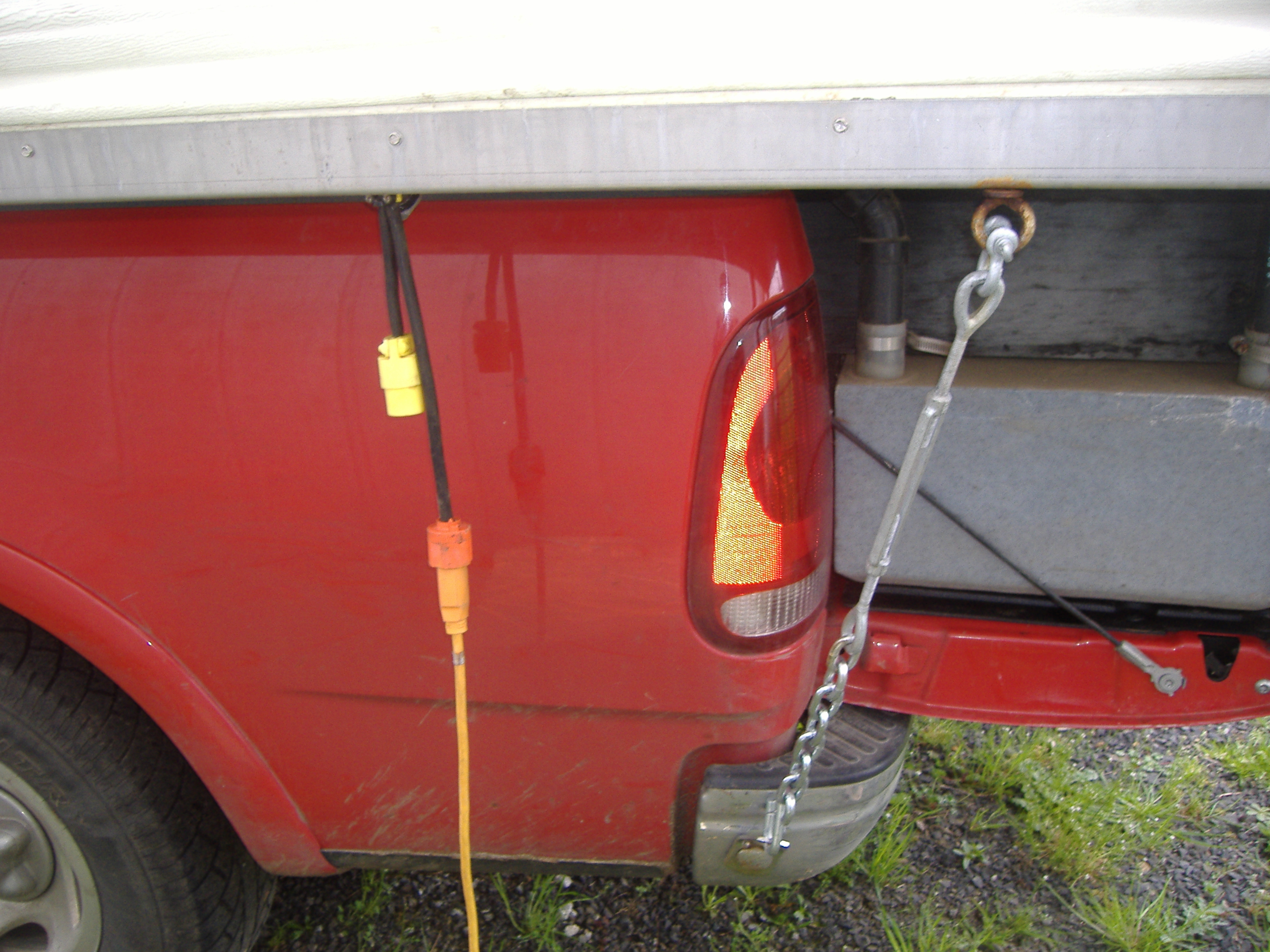 Portable Power Source ; At times, you may want to locate in a isolated area for a while longer than the onboard 12 volt battery can accommodate. Most of the newer larger campers have a space for a small portable electric start propane powered generator (usually a Honda). For my camper it was old enough that this was not an option at that time.
I wanted a generator large enough to operate the micro-wave that I had installed. I found one of those Chinese 800/1000 watt 2 cycle generators for $100 that did the job. And it was rather quiet for a 2 cycle, but before I really had a chance to more than just test it, I got the chance to buy a used Coleman 1850 watt unit powered by a Brigs & Stratton, 4 stroke motor for a very decent price ($200). This unit is heavier, and a tad bit noisier, but has more capacity and also has a 12 volt battery charger, which could be a blessing if needed. I have a friend who then twisted my arm and I recovered half of my Coleman investment.
I have installed a trailer hitch receptacle on the front bumper to accept a removable 12 volt winch. And by using this receptacle, building a mount bracket for this generator is in the plans for when I'm away from regular RV camp sites with hookups.
Interior Lights ; These lights will almost always be powered by a 110 volt inverter down to 12 volts that when the unit is not connected to 110 volt power, the onboard battery will automatically be switched over to power these interior lights. These light bulbs will be incandescent type, and could draw enough power that if you dry camped for a week-end, you could run the battery down. One thing to consider is to replace these older style bulbs with the newer LED style that produces the same amount of light, but at a considerably lesser amperage draw. The are not cheap, like $13 to $26 each. It may take a bit to get accustomed to the different/brighter style of light.
Table Space ; Usually my campers are mainly used for a cooking and a sleeping area. When I bought this one, it had a large table in it which took up considerable floor space. It had 2 support posts for the 25" X 34" table. I removed one of the supports then cut the top down to 25" X 19".
For just the wife and I or a fishing partner, this is enough of a table. In the photo below, the top can be slid out into the center for more room behind the bench seat. If there were a couple of kids in the group, then other arrangements would need to be made.
Smaller table is adequate for most occasions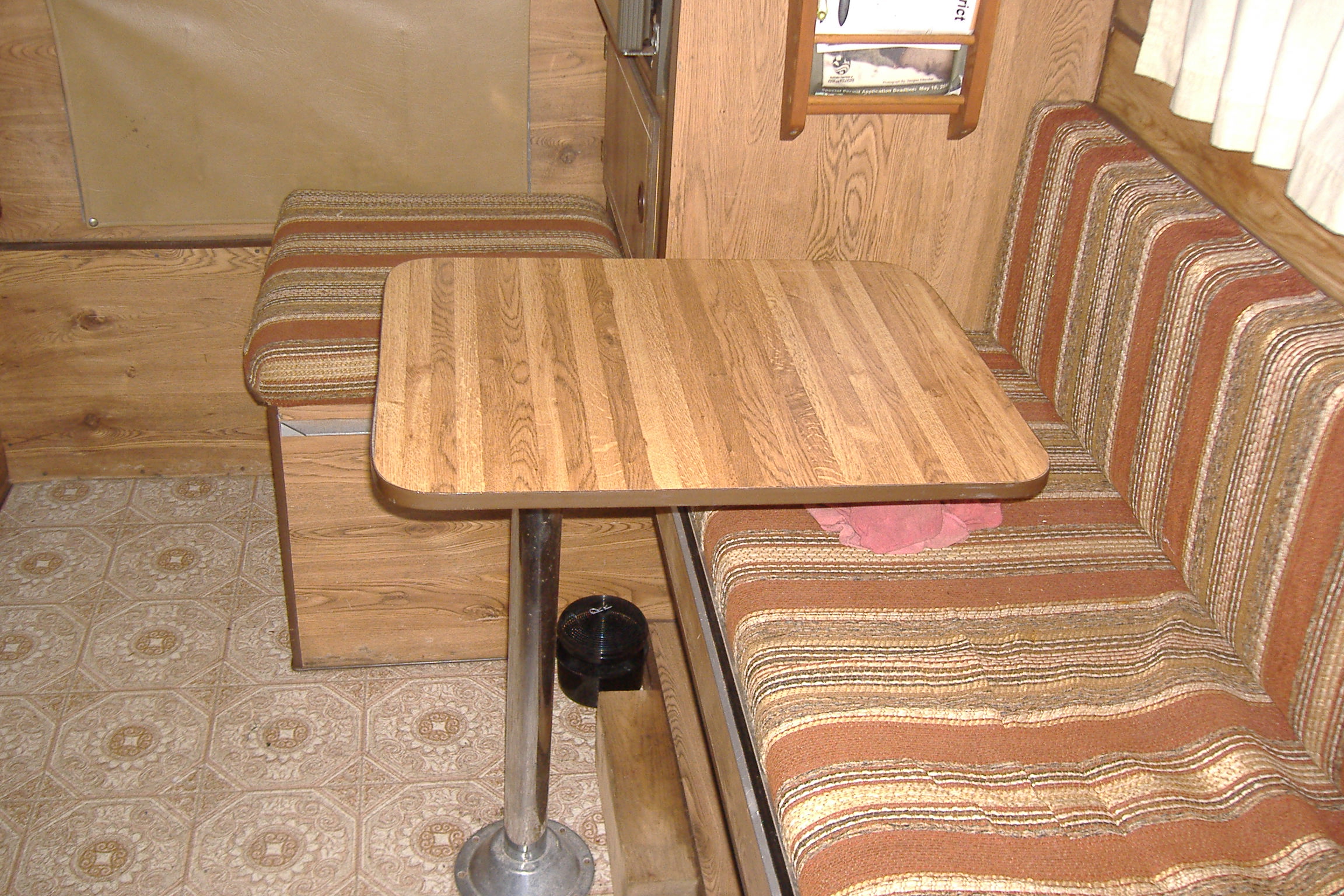 Dehumidifier ; Since most of us do not live in our campers for extended times, but we do need to keep some form of heat in it during times of it not being occupied. Just because we have a roof vent cracked and have a small heater going, does not really remove moisture depending on the geographic location where you reside. Many of these older units have paneling as a inside finish which can become deteriorated or even rot over time.
One thing that will help remove moisture is a small plastic container shown setting on the floor under the table in the photo above. It uses a product called "Dri-Zee Air". In it, you place a packet of the crystals in the upper screened compartment. These crystals absorb moisture which then drips down into the bottom cup. You need to look at it occasionally then dump out the water, and or replace the crystals when they all get dissolved.
Another good product is called DampRid, and can be had as a bag that hangs in a clothes closet. These extract the moisture and places it in a plastic disposable bag.
Garbage Bag ; Space is always at a premium in campers, what I have done is to attach the (2) "hook" part strips of Velcro to a convenient location, which in my camper it happens to be the outside of the door to the toilet area. I place them far enough apart so I can use plastic grocery shopping bags then attach them to this Velcro by the fuzzy strips Velcro thru the bag handles. Out of the way, convenient and the garbage is already in a bag for disposal.
Garbage bag from a recycled grocery bag
Also in the above photo, you will notice the small 110 volt electric heater placed in the bottom of the toilet room door. The door has air space above and below, allowing camper internal air to be circulated thru the heater.
A More Secure Coffee Pot ; Since this camper does not have a hot water heater, I use a electric coffee pot for coffee/tea water and the rest is used for washing dishes.
However the only place to logically put the coffee pot was smaller than the base of the pot unit that I had. I glued two 2" X 6" pieces of lumber together then cut it to fit in the corner behind the sink. Routing out the front bottom so that the wood would be flat on the counter-top but overhang the sink lips slightly. Now the top of the wood was routed out to accommodate the base of this coffee pot. It now sets where I want it, and is pretty secure even when driving to our intended locations.
Adapter base for coffee pot.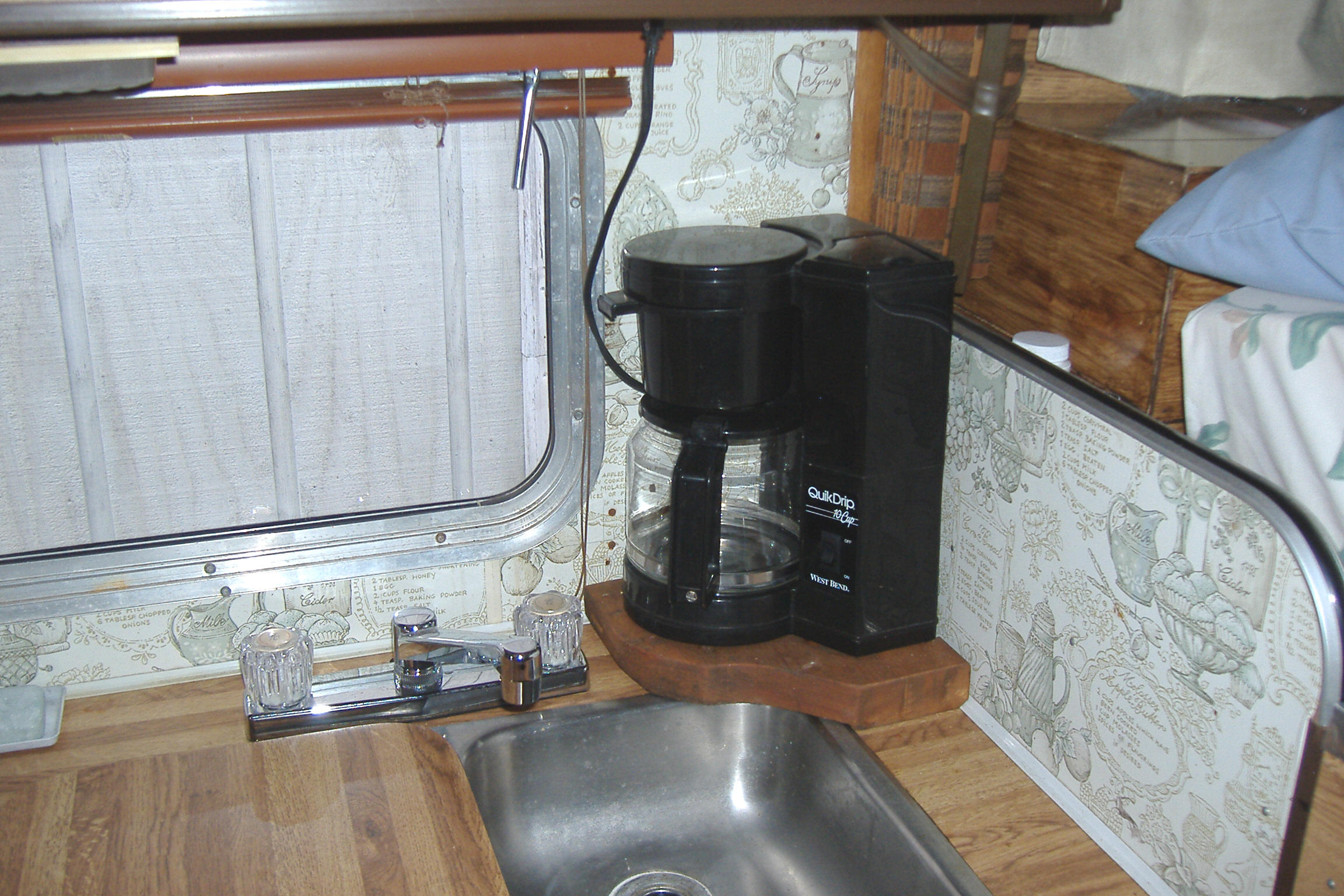 Fresh Water Gauge ; This old camper has a opaque white 20 gallon plastic water holding tank, but no method of telling how empty it is except when the faucet sputters when not on city water.
In one upper corner of the water tank, I drilled a 1 1/4" round hole and then epoxied the top of a medicine bottle over the hole. Now I can unscrew the cap and inspect, or use a 3/8" dowel as a measurement stick.
I also found that it also serves as a extra fill location if using a 6 gallon plastic jug using a decent large funnel, instead of those old ill-conceived older outside fillers.
You will also notice a cardboard "Catch All" box on top of the water tank.
Here the medicine bottle upper part with the cap is shown by the red arrow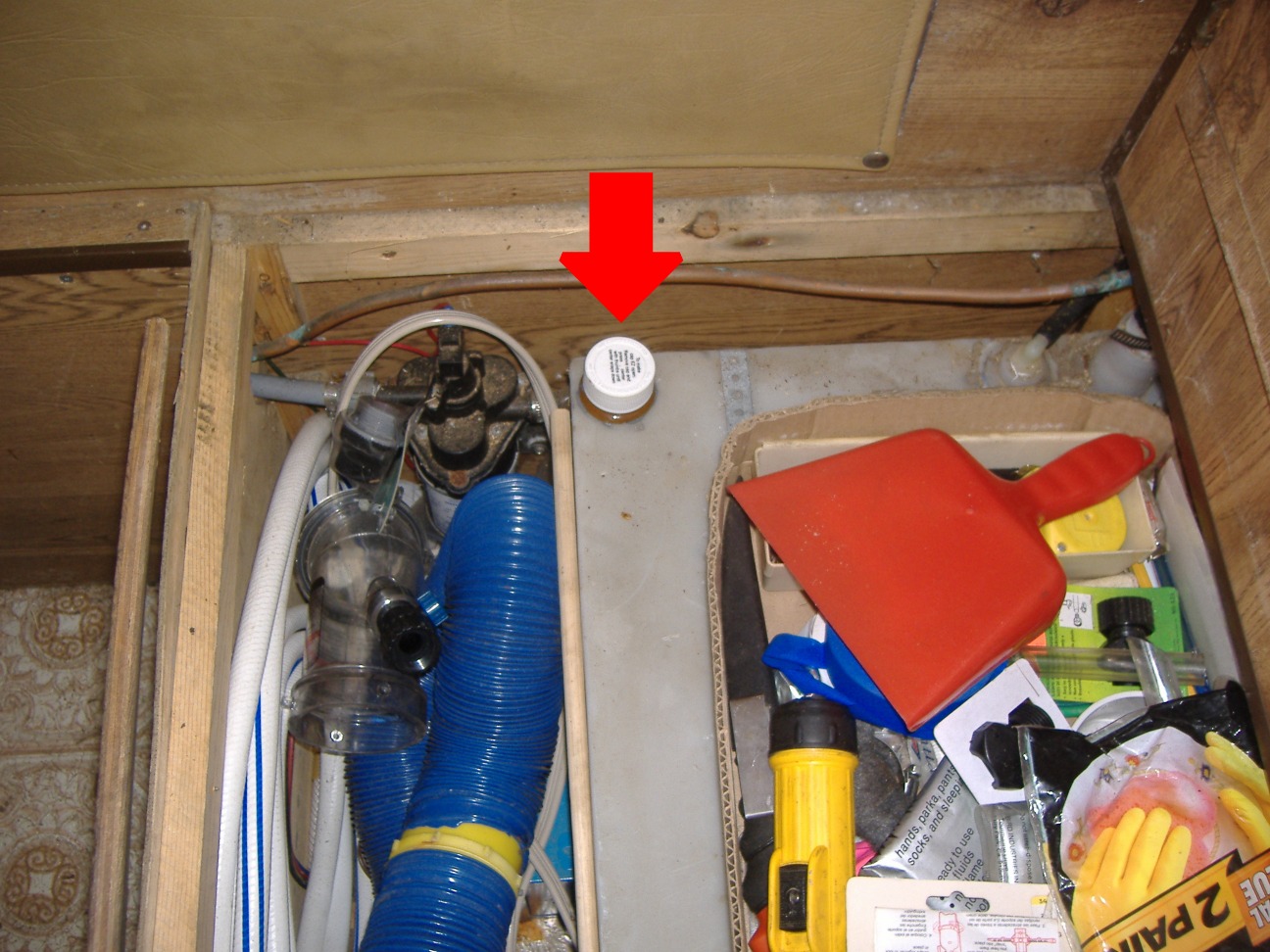 Circulation Fan ; Cooling can be an issue at times and the little I use this camper a air conditioner is out of the question. So I built a small variable speed 110 volt fan unit. This particular fan was off a CNC milling machine used to cool the computer and electronics. A separate rheostat variable speed switch was used so that the speed can be anywhere of just barely turning to high. It is mounted on the ceiling over the bunk at the corner of the refrigerator and can be pivoted back out of the way when not being used.
The electrical wire was ran thru the upper wall and then down into the opening behind the refrigerator (with access by the outside hinged door) and plugged into the same duplex outlet that the refrigerator is plugged into behind the wall.
Cooling fan mounted to the ceiling which can be pivoted back out of the way.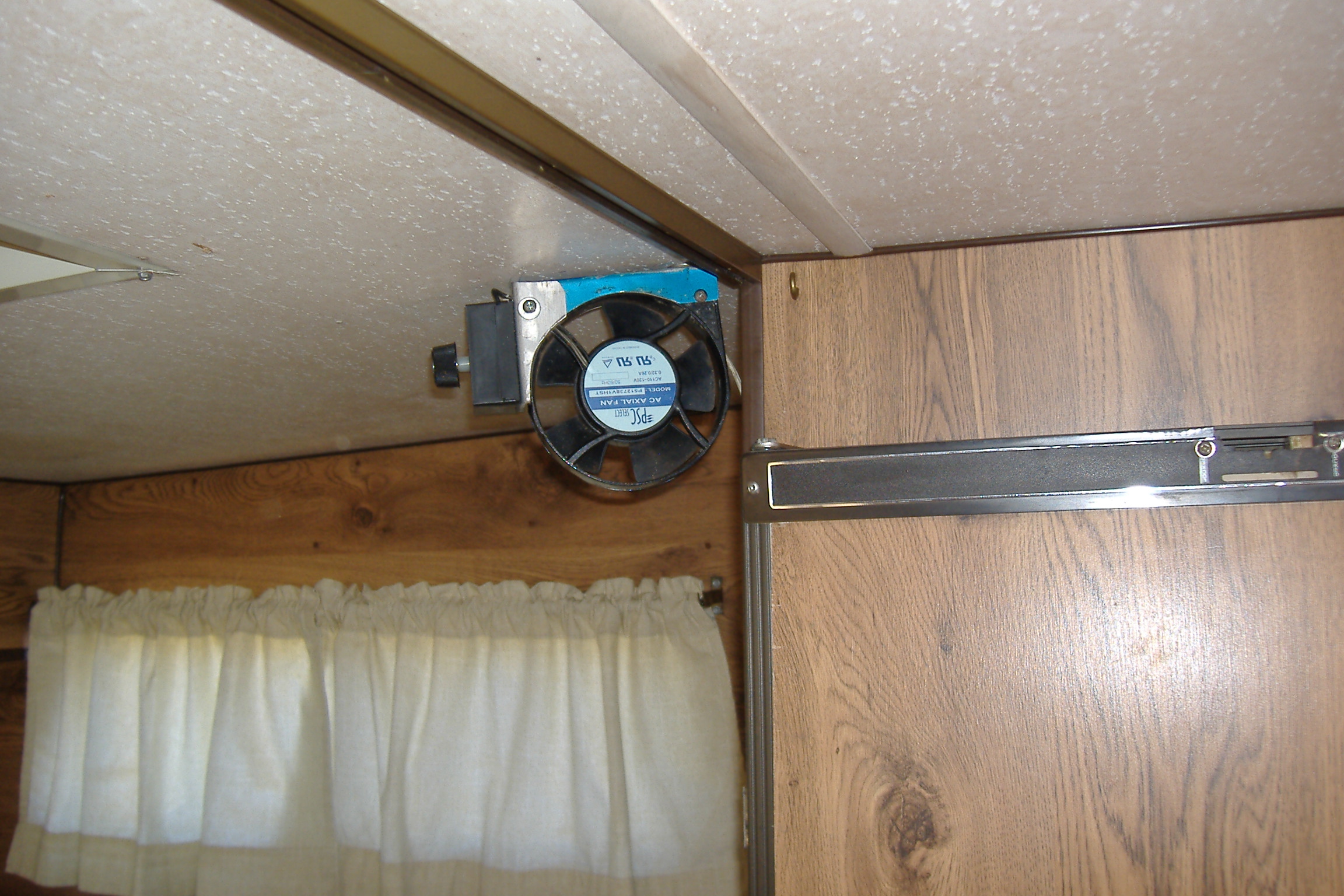 Extra Storage ; This seems to always be a problem in any camper. I did not think of it myself, but copied the idea from the newer campers that use mattresses that run front/rear.
This camper uses a standard double bed mattress crosswise in the overhead sleeping area. There is a lot of extra room on either end of the mattress. Measuring and allowing extra so as to not have the mattress tight against the sides of the camper, if I slid the mattress to the right then made a 12" wide by 9" high box that is placed at the head of the mattress. The height was governed by the height of the aluminum window frame as this box just comes to the bottom of the metal frame. This has 2 hinged lids 18" long and the non-hinged ends giving me a place to put a portable radio, alarm clock, my glasses, hearing aids etc. at night.
Inside of this storage I can now place a couple of extra changes of clothes without trying to hang them in the limited closet space with my rain gear or coats and all the other stuff that seems to accumulate there (like fishing rods, or the hot water portable shower). Plus this gives me a convenient place to put my socks and underwear. AND a convenient place to keep my personal defense pistol near, plus it being readily accessible.
This was all made from scrap material, paneling that needed to be stained for a better match the original, extra 1/4" plywood for the back, bottom but with 3/4" X 1 1/2" ripped strips of pine lumber for the inner corners. Plus scrap 1/2" plywood was used to reinforce the lids.
The curtains needed to be shortened about 2" to give of clearance.
The one nice unforeseen thing that was the outcome of this, was that with my travel alarm clock setting on this hollow compartment, even though my hearing is bad without my hearing aids at night, when the alarm clock goes off, I can now hear it without setting it on top of aluminum pots and pan lids.
Here much needed side storage has been installed.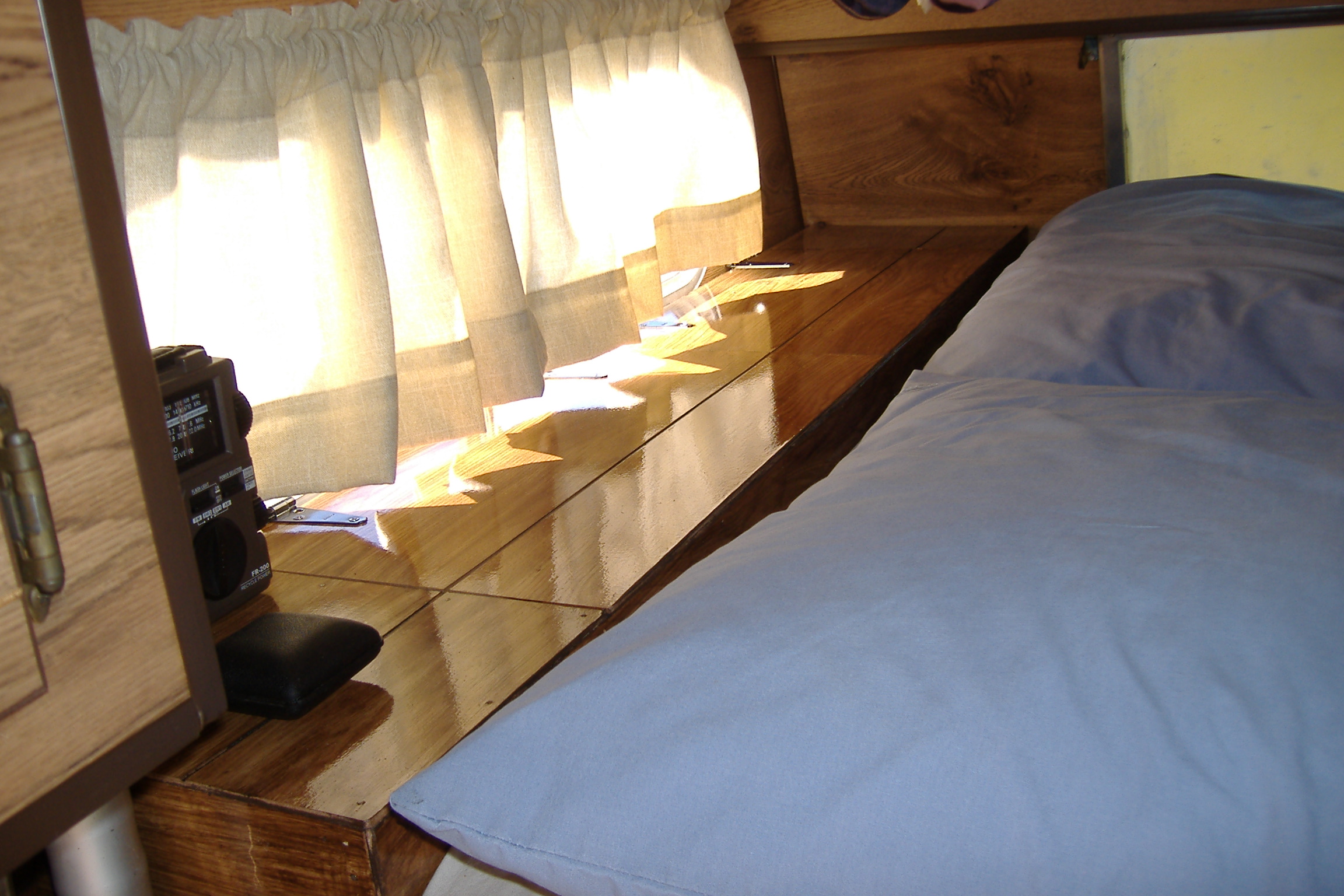 Stabilization of Load ; This is not my idea, but for those of you who are new to hauling campers, it is a good idea to install air overload helper bags. These act as overload springs where the air pressure stabilizes both side-sway and increases the load capacity within the vehicles capabilities. Each bag is inflated individually. Some units have their own small air compressor and can be adjusted from inside the cab. Others have a tire valve for each, usually located on the rear bumper that can be inflated by means of a stationary air compressor. They can also be used to some degree when parked to level the camper if not set up for any length of time. Air pressure for my camper and 1/2 ton Ford F150 pickup seems to work best at about 90#.
Be sure your tires are built to haul these heavy loads and keep the pressure near the maximum recommended when hauling it.
Steps ; This is always a issue. I, like most RVers have either experimented with, or made different steps. Frankly I have not yet found the ideal ones, except when using a friend's newer unit, his has a slide in set that goes into the camper's "basement", when pulled out is locked in place and is quite sturdy. However this set of steps was designed specifically for the vehicle and camper it was attached to.
Those scissors type ladders seem to me to be an invitation for a nasty fall, especially if your pickup bed is higher, which requires a longer unit. And they can then extend far away enough from the camper if more than 3 steps to where you have no hand support. If you happen to be lucky and yours is the right length for the steps to be anywhere level, you are fortunate, and they are better than rickety stepladders or apple boxes.
Newer Camper; OK, now that I have all the above done on this older camper, we have upgraded to a newer camper in hopes that the wife may consider accompanying me at times. She has always had a problem with "MY" older camper. The overhead was too confined, the overhead mattress was too hard (even though she bought it) and difficult for her to climb onto, the seats at the table were too high, and why did I need to install a Mirco Wave, etc. But maybe she does have a complaint as after the car wreck a number of years ago where before everything was done, she wound up with two compression fractures of the back and a Keteboplasty procedure done, cementing the worst vertebrae together.
I did not even advertise the old one, as a neighbor lady called when she saw two campers parked behind my barn. She does a lot of horseback riding in the high mountain country and her older camper only had a icebox along with not having an oven, both a big a plus for her. She picked it up the next day. And she had two potential customers waiting in line to buy her old one.
For this newer unit, after I located it, we both went to look at it and she got to do her inspection on the dealer's lot, so with being given the constraints of needing a 8'er for length and weight to be able to use on a 1/2 ton short bed pickup, she gave her approval on this one. In our area for some reason, it seems that the larger RV dealers shy away from slide in campers, leaning more to trailers or 5th wheelers. This one was a trade in from one of the largest RV dealers in the state and our local small dealer buys them up, creating his own market.
The wife is now offering some advice on how to set up the kitchen area and help picking out some of the additional needed items. So now maybe she might now be a bit more ready to accompany me at times on some of my outings or even a trip somewhere. She even told the neighbor's wife that she planned on fishing with me this coming year, boy that will be a surprise, but that's fine with me.
This newer unit is a 1998 Fleetwood 8' Elkhorn model. Like the older one it has a toilet, but also has a sink and shower unit combined in the enclosed waterproof bathroom / shower area. It also has many more conveniences like a 6 gallon propane powered hot water heater, an outside shower hose/head, air conditioning, short queen bed with lots of storage areas, plus a built in AM/FM radio and space for a small TV which has a built in retractable roof antenna (which is outdated now). And the electric powered jacks are nice. Then dual propane tanks could also be a plus at times. It even has a retractable 8' side awning. The front overhang is extended so the short queen size bed is lengthwise allowing for lots of side storage and is quite spacious due to the overall height also being 6" higher to accommodate the air conditioning.
With this newer unit it is kind of like moving from a Motel 6 into the Hilton, a bit crowded, but nice enough that my bride of 57 years may feel more at ease.
As with the previous camper, I do mount it on a old pickup bed trailer if I am going to leave it for a while during the summer nearer my fishing area, kind of like a mini travel trailer.
In the RH photo below, you will notice the considerable overhang when mounted on the trailer. And with the fixed location of the axle on this pickup bed trailer, this created a lot of tongue weight. So I dug out the used torsion bar hitch unit off an old stock trailer, and when added air to the existing pickup air bag overloads, which improved the towing considerably.
| | |
| --- | --- |
| 1998 Fleetwood 8' Elkhorn slide-in camper | Here we are loaded onto my old pickup bed trailer, ready to transport to it's summer home near my coastal fishing area. |
| | |
Now I have had to start all over trying to improve/modify this existing unit to my liking, mostly like adding shelves in some of the larger open storage door covered openings. A simple mahogany paneling partial stove top cover was added for more counter working area and protection of the stove burners.
I have also added the plastic shopping bag "garbage bag", but changed the Velcro mounting system used on the older camper to a couple of screwed on wooden spring loaded clothes pins which is considerably more secure. Since this camper is so compact, about all the space is being used, this area below the refrigerator seems the only viable location for this garbage bag. The mounting location had to be low enough to allow the hinged shelf above and behind to be able to fold up and secured in place. Also this area seemed to be the only viable location to mount a readily available First-Aid kit. You will also notice the Dri-Zee Air humidifier container in the corner on the floor.

Under the front dinette seat, a metal wire slide out rack was installed. This rack was purchased at The Home Depot, but was made deeper in length than the location I wanted it to go into, so I cut the wire frame, shortening it by 3"and welded it back to the required dimensions, repainted, then mounted it on the mid height shelf that I had previously installed. This allows for seldom used tools/maintenance items to be stored plastic boxes in the space below while still having access to other more often used items in this rack. However I found that when traveling, this door/drawer wants to come open, so a thumb lock door latch was installed.
Garbage bag in use, First Aid kit on wall

and Dri-Zee Air
Here is the pull out metal rack under the seat
Also shown in the photo below, a new shelf as been added in the lower section of the clothing storage compartment allowing a separate space for pots and pans. In this clothes storage area I have also have added a 4 tier wire storage rack, (again from The Home Depot) on the wall for soup or other canned or packaged goods. The clothes hangers can still be used for a jacket or two, while still allowing access to the food rack. A wall mounted knife rack was fabricated and also installed above the stove because the utensil drawers under the sink are so short because of the sink that the longer knives will not fit, the rack is seen in the photo below .
The existing shelf above the sink was modified to better utilize that cabinet for dishes and or dry food storage.
A small electric heater was installed below the propane one for when the unit is parked and hooked up to 110 volt power. Also two surfaced mounted 110 volt receptacles were installed and wired in, one along the side wall UNDER the sink and on the other wall near the thermostat above the dinette side seat. The 110 volt power circuit breakers were checked out, labeled then the receptacles and electric heater were added to the lesser used breakers, being on separate 15 Amp circuits. The only thing I found with this heater is that by leaving it on low most of the year to take the chill off and keep the moisture from molding things inside, that the thermostat began occasionally sticking in the on position. OK, tear it apart and spray some contact cleaner on the contacts.
New pot shelf, food racks, knife rack & electric heater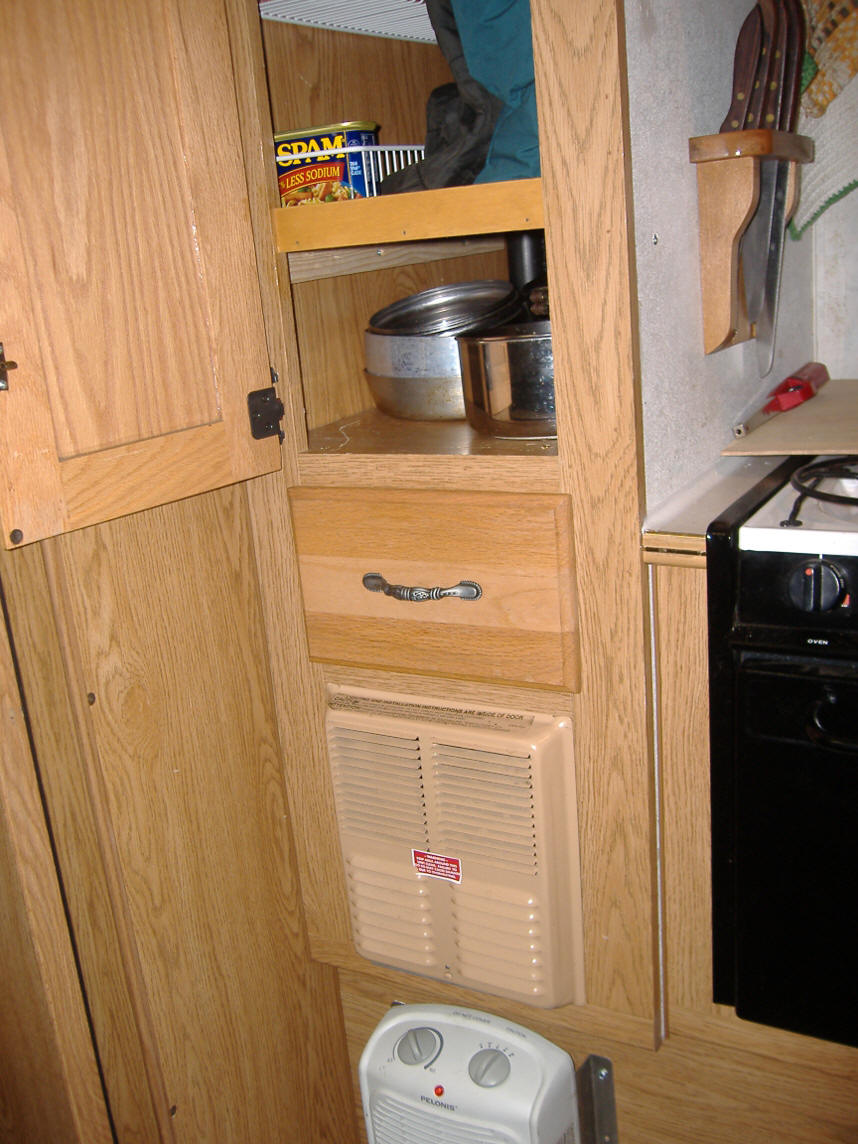 Few problems were encountered on this unit with those being a couple of light bulbs burned out, AAA batteries needed changed on both the heater thermostat and C02 sensor. Then the range outer hood vent dampener was broken, but a complete new plastic hood assembly was only $12 and available at Baydos. Then the rubber roof was scrubbed clean, then repainted.
And the freezer door hinge spring units were broken. I order new ones again from Baydos, but the salesman was little help in how to replace it. Took a bit of head scratching before I figured it out and the tension on the door is just reversed from how you would think it should function.
And the pickup had to be wired to accommodate the camper's 12 volt system when not parked and hooked to 110 volt power. One thing I found was that since this Ford pickup was factory prewired for an RV trailer towing package, that by splicing in the wiring under the bed to obtain recharging power for the onboard battery when the pickup was being driven and supplying power for clearance lights, that Ford has a auto disconnect to this camper power when the ignition switch is turned off. This prevents the vehicle battery from being ran down if parked and using the onboard 12 volt power for a lights or propane heater fan for a short period of time. Dodge and Chevrolet require a battery isolator.
Other Accessories ; In trying to stock this camper with possible items, I found a electric coffee pot, a small electric crock pot, a electric toaster, a George Foreman electric grill and a Cabela's stainless steel portable propane Barbeque grill, that all make life a bit happier. All these kind of take the edge off of "Roughing It".
More Storage Needed for Sewer Hose ; The original built in sewer hose storage compartment only accommodated a 10' hose, not quite long enough at times, so back to Baydos and purchase a 46" externally mounted sewer hose unit that bolts up under the side overhang. This accommodates a 20' hose, so between the two we should be fine.
Time to Move on to a Travel Trailer ; OK, I guess nothing is permanent. In the late spring of 2014, our family reserved 6 spaces in the State Park campground at Grayland WA. for a razor clam dig. The RV we took was the above camper on the trailer. Two of the three days was beautiful, but one was RAINY and WINDY. The family had a great time and dug limits of nice clams. However my wife's medical condition of loosing her balance and deterioration of her leg muscles proved rather hard for her to climb up into the overhead bunk at night. And sleeping on the fold out dinette bunk was not good for her back to get much sleep or her charming personality the next day. (She was later diagnosed with Spastic Paraparesis and underwent spinal surgery removing the front part of two vertebrae and screwing a plate into the one above and below).
After a bit of discussion, we started looking for a medium sized travel trailer which may be more conducive to the wife's needs. The daughter found a 14 year old 23' Wildwood on Craig's List at a decent price that we purchased. Now to modify it to her/my needs and wants.
And the camper sold on Craig's List to a Canadian couple in less than 2 days.
Here is her new home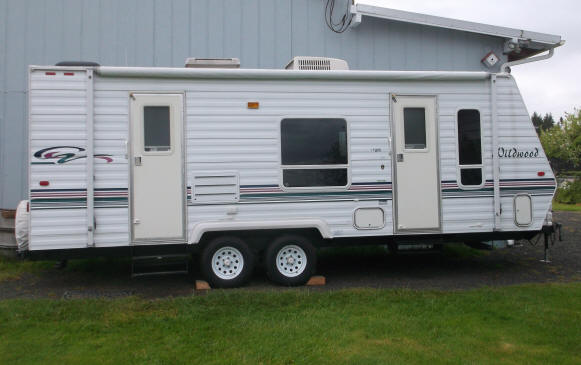 Improving a Folding Table ; When using a camper, if you are doing anything but driving from one place to another, you will need some sort of a table. A folding table is about mandatory in a mobile situation like this. At a garage sale a folding aluminum table with the center main part 24" X 30" was acquired. This table has folding 15" "wings" on each end making a total over all length of 60". However the aluminum top was a bit misshaped and had dents with a whole lot of evidence it was once a painting platform.
Since I had just redone the bathroom and had replaced the fiberglass shower stall, while pondering how to dispose of the old stall, an idea was hatched to recycle it by cutting it one down and attach it as an overlay to the aluminum tops. It was marked, and by using my 10" table saw that had a fine toothed finish blade in it, the cuts came out with no splintering.
Initially I had hoped to simply glue it on using the same panel adhesive that was used to replace the new stall. After reading the adhesive instructions, no, it won't work as one of the parts to be attached had to be porous. So on to plan B which was to drill and install it using stainless steel flat head screws.
The one good thing about using this existing fiberglass is that by cutting it right, I managed to get a 3" rear lip on the center top. This can come in handy when trying to fillet salmon that are slippery and wants to slide off the rear, even into the water, if you are doing this on a dock.
Modified folding table and limits of clams to clean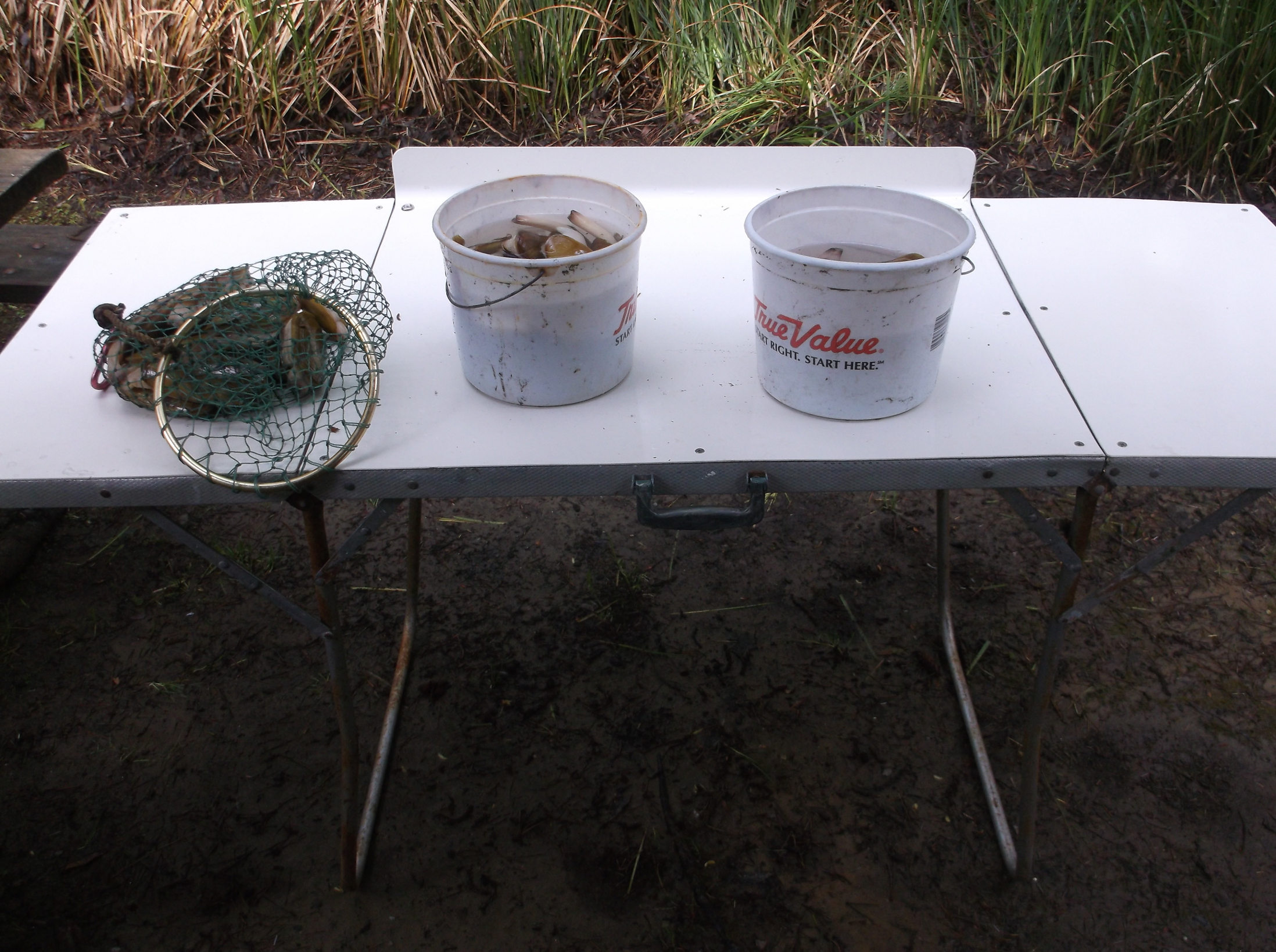 Folding Chair Too Low ; OK, I know this is not about a camper, but it's usage may very well be associated with RVing. How many times have you had trouble getting up out of one of these chairs because your lower anatomy was closer to the ground and as you get older, this part of your anatomy seems to have more gravity to it than when you were younger?
A simple fix is to unscrew one metal screw that attaches the back to the steel upright tube. Slip the back up and off, then remove the rubber end cap on the tube. Remove the arm and the back of the seat. Take a 3/4" PVC pipe, cut it into 3" sections. Slide one of these sections over the back tubing. Replace the seat, arm and back. Reinsert the sheet metal screw that retains the back.
This 3' distance took a bit of experimentation, and for me 3 1/4" works out about right on this model of chairs that I have.
You will be amazed at the difference in your ability of getting up after this modification.
Modified folding lawn chair.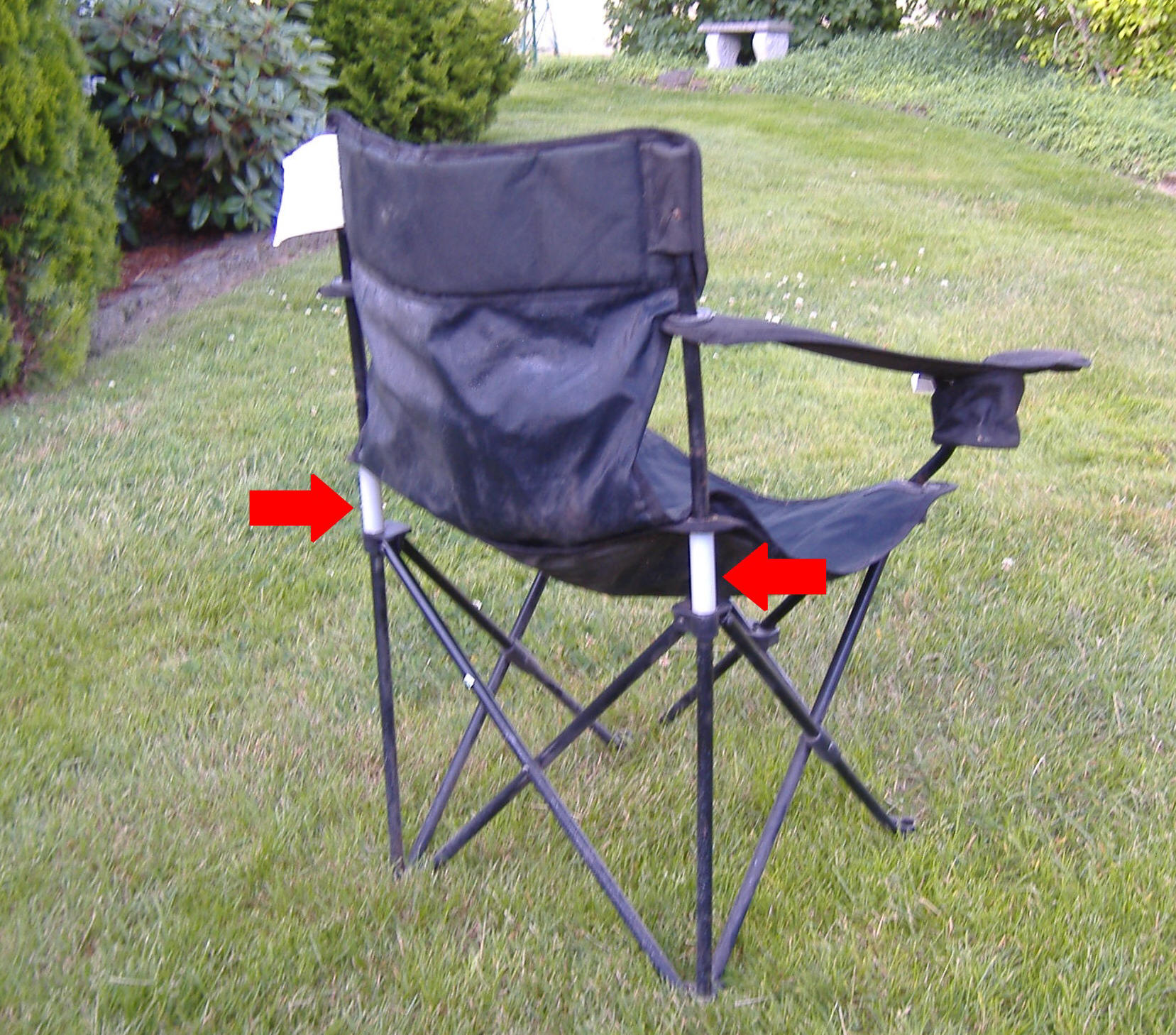 Winterizing; OK, there are some pretty standard procedures in the camping world for long term winterizing your camper or trailer, but if you are not quite ready to use it for the winter what do you do just in case you get a cold snap?
I always keep a small 110 volt heater in my units to keep a bit of heat (55 to 60 degrees) there during the winter, but that may not protect water pipes/hot water tank from freezing, even if you leave the cabinet doors open. For a number of years I have used a small thermostat controlled 110 volt unit under my patio sink. This unit is "EASYHEAT EH 38 thermostatically controlled device" that has a 110 volt male prongs on the inlet and a regular 110 volt female on the outlet and is designed to control a small heater or electric pipe wrapping that sells fro $20. These turn on at 38 degrees and off at 50. It also has a power indicator light when plugged in. I have installed one of these and added a 60 Watt light bulb instead of a pipe wrap. This has kept my patio water pipes from freezing in down to 10 degrees. Why not use the same in the trailer.
The only problem I found is a that many campers/trailers do not have enough wall thickness to install a normal 110 volt duplex outlet in. And I can not find a surface mounted receptacle anymore, even though the RV business uses them. Plus many times there is not a lot of extra space under the sinks where you would usually mount these. My solution was to utilize a 110 volt 3 position adapter and tap out the holes in the prongs for 8-32 threads, bend them at about a 90 degree position outward to accommodate screwed on wiring connectors. On this one, I left the ground lug, as a extra alignment, but had to cut off 3/16" that protruded out the back. I used a piece of wood, 3/4" X 1 1/2" X 4", and mill out recesses to accommodate the thermostat unit on the front and milled a slot in the back to also accommodate wiring. This unit is then glued to the wall with panel adhesive.
You then have to locate 110 volt wiring close by and run wiring from a existing outlet box, behind the panel and back out near where this thermostat is to be mounted.
| | |
| --- | --- |
| My winterizing unit | Here is the backside |
| | |
On my trailer the tank part of the water heater and all the plumbing to it are also under the kitchen sink, so placing one there behind the utensil drawer pretty well takes care of all that and the sink plumbing. The above unit may not be the cure all, plus you may need to use RV antifreeze in the toilet. And depending on your locality, and you may need to still possibly insulate places where the pipes run that may not be that secure.
But for long term winter storage, it is best to use the air blow out system to use compressed air into the city water intake and open the water faucets, blowing out any water in the system behind the water pump. Then put RV anti-freeze in the sink P traps and maybe a bit in the toilet above the shut off plate.
Maybe they will double check that rear bumper sewer hose compartment cover retainer next time.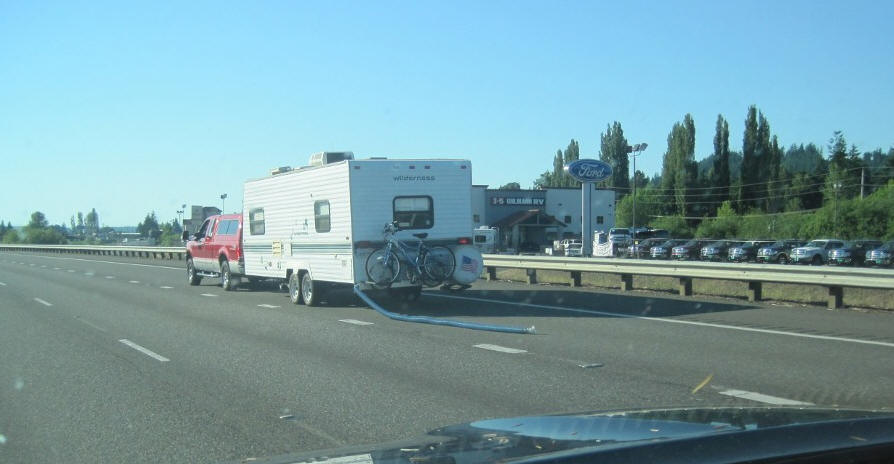 Here is a simple & economical fix for the above photo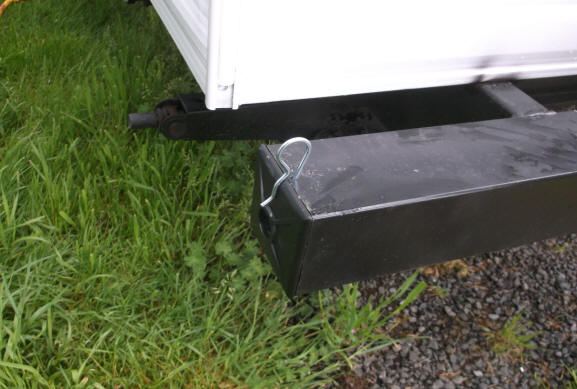 Copyright © 2011 - 2020 LeeRoy Wisner All Rights Reserved

Back to the Main Ramblings Page
Originated 02-19-2011, Last updated 11-13-2020
Contact the author